When you're young they tell you about "sticks and stones" and we learn quickly that words hold the power to bring us to our knees, build us up and shape the way we see the world. This week, Alison writes about the word "pretty" - six letters that hold tremendous power, both to destroy and to empower, and the evolution of meaning as she has journeyed to recovery.
The word "pretty" seems to be a basic vocabulary staple for everyone - introduced in early childhood and sprinkled here and there for years thereafter. It's one of those words subject to the eye of the beholder. But what I've realized is my own "eye" for prettiness has evolved as much as I have over the years - an evolution marked by the journey from innocence to experience and towards greater self-acceptance.
When I was little, "pretty" meant the sweet simple tokens of life unfettered by concern or calamity. It was patent leather party shoes that always smelled new. It was the little birds that carried spring on their wingtips to my windowsill, and the green-blue-brown speckled eggs they nested safely into tree branches. It was seashells and sea glass collected with Mum on the beach.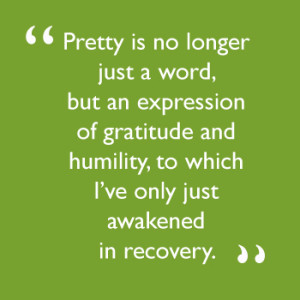 When did "pretty" become lipstick and push-up bras? Little pink pills and scads of eye shadow?  How did the "pretty" girls make life look so easy, breezing through high school, all-night parties, and boyfriends with apparent ease? Why was "pretty" so eternally elusive for the rest of us, who smoked, dieted, exercised, and purged in its pursuit to no satisfaction?
Now, "pretty" is a different story. It has traveled full circle and returned to the simple things that mean more than words can express. It's the sun between cedars in the precious forests of Lighthouse Park. It's the sparkly stretches of untouched snow in the meadows. It's the gowns at friends' weddings, outshone only by the smiles of those who wear them.
Pretty is no longer just a word, but an expression of gratitude and humility, to which I've only just awakened in recovery. Only since finding release from the obsession of my eating disorder have I been free to stop and smell the roses, as it were. Perhaps I never would have done so, if I hadn't had to fight for my life. If it took so many years of pain and darkness to truly appreciate the pretty things, then maybe it was worth it. It's certainly worth the recovery!
Alison is a regular contributor to The Looking Glass' blog, is an eating disorders survivor and is an inspiration to those around her.