Dolores is one of Looking Glass Foundation's Founders. She and her family have been on an extraordinary journey. In the next five weeks, Dolores has generously chosen to share that story with our community so that you can understand more about where we come from and why we started. This week, Dolores starts at the very beginning...
Denise was born in 198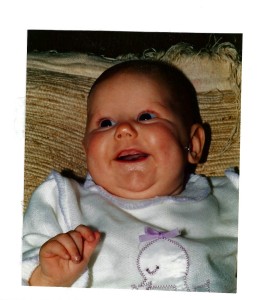 6 adored by her two older sisters, parents and a very large extended family.  At an early age Denise had a shining personality - she was always smiling and was a happy-go-lucky kind of baby.  
She went to preschool for one year the next year she was clearly bored and didn't want to go.  Her sisters instilled in her an insatiable desire for knowledge and I would often find them downstairs teaching her at the blackboard or at the piano.
Denise was lucky to have two grandparents living in town and two living in Toronto. One of our most precious memories was going to Toronto when Denise was 2 years old to celebrate Christmas with our family. We had great memories of skating on the pond, fishing through holes in the ice, building igloos, going on sleigh rides and taking the kids on snowmobile rides.  
Denise was enrolled in a French immersion kindergarten class when she was 4 years old and thrived with the challenge.  She was a great learner and could set goals and achieve them at a very young age.  Like her sisters she had vast natural talent and athletic abilities.  She liked to be busy, competition was in her blood and she was a gifted athlete. She quickly grew into a talented Provincial level swimmer, soccer and softball player.
Her grandparents were always a key part of her life - we would spend summer days boating with them over to Saltspring Island and exploring on Bowen Island where they spent their summers. When the weather here in Vancouver would turn cold, we would head south to their house in Palm Springs. I remember many times when we would go to Disneyland, to the San Diego Zoo, or head to Tijuana to hunt for Mexican dresses and trinkets.
Our wonderful years of family time with Denise's Grandfather came to an end far too soon.  Ten months after he was diagnosed with cancer he passed away.  We were all devastated and dealt with it in our own ways. They say that hindsight is 20/20 and today I can look back and see this as the catalyst for a major struggle that would plague Denise's life and our family for years to come.
Check back next week for the next part of Dolores' family's story.