Last week we introduced you to Dolores - one of Looking Glass Foundation's Founders. In a great blog post last week, she began her family's story: My Side of the Looking Glass. This week, Dolores explains a bit more about how her daughter, Denise, found herself fighting for her life at a young age in a battle against an eating disorder...
Denise began to change when she was about 11 years old.  She had expressed a deep sadness and told me she was "fat."  This comment was regularly brought up and troubled me so much so that I took her to our Doctor. Just as I suspected, the doctor told her she was not fat as her height and weight were normal on the growth percentile chart.  We left the doctor's office and I foolishly thought to myself that with the Doctor's advice, Denise's comments would come to an end.
It's a hard fact for me to share, but it is important to note that we had many close family members die in a short period of time and these deaths affected her more deeply than I could have imagined. 
My father, as I wrote about in my last post, was a big part of Denise's earlier years passed away when she was six years old.  A few years later two of my grandparents also passed away. They lived in our community and were very close to the Denise.
Our much loved family dog Nicky also past away leaving an emptiness and sadness in our home. This prompted our family to begin searching for a new dog and Denise took this task on and very quickly found a litter of puppies. We chose our new family member and a few weeks later brought Tyra home. Of course I was hoping that this would fill the void and pain that Denise had been so frequently exposed to, but sadly, Denise's Nanny passed away shortly after Tyra joined our family. 
We were very close to Nanny who had been the heartbeat of our family. I was so focused on my Nanny's last few months that I missed signs of Denise anxiety during this time. While I knew she was struggling, I had no idea how seriously ill she was. I simply didn't have the energy to help her. I wish someone could have realized what was happening to Denise, but there was such a lack of awareness any close family members or friends had no idea what was happening to her.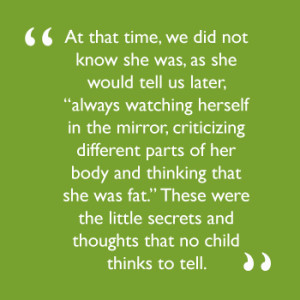 Around the same time a couple of Denise's girlfriends' fathers suddenly passed away. These losses affected her in a profound way.  Denise didn't express her sadness or emotions and seemed to accept death in a very mature manner. She was always about pleasing and putting others before herself.
She was excelling in everything she did and school was easy for her. Denise was very popular with her friends from elementary school and soon had a new set of friends in high school. In Grade 8 Denise set her standards very high at everything she pursued; she was involved with soccer, baseball, competitive swimming, dancing, modeling and the odd job as an extra with a talent agency.
The high school counselor suggested Denise go into a program for gifted students so that she could accomplish her school day in a shorter period of time which would leave her room to dance for over 20 hours a week. At that time, we did not know she was, as she would tell us later, "always watching herself in the mirror, criticizing different parts of her body and thinking that she was fat." These were the little secrets and thoughts that no child thinks to tell. We knew dance was her first love and so when she committed herself to dance, we supported her.
She wanted to model and joined the same modeling agency that her sisters had worked with. She had a few jobs and liked the new experiences. The agency told her that she would be a good model to send to Japan, but this was not something we wanted her to do. Denise began to lose some weight and at first it seemed like it would be just a couple pounds. But I didn't realize what was manifesting in her head. She was receiving many encouraging compliments at school about how great she looked which, as we discovered later, only added fuel to the fire.
Denise continued to lose weight and we began to worry more and more. The different ways she acted and the things she started to do were early signs of a mental disorder that would change our lives forever.
The story continues next week. Stay tuned...