Season's Greetings from the Looking Glass Foundation:

I hope this message finds you healthy, happy, and warm on these chilly December days! It's hard to believe that 2016 is almost over, but I find that there's a certain magic in starting off a brand new year. It's a wonderful time to reflect on the year that was, to connect with the here and now, and to project some light and warmth toward the months ahead.
Here at the Looking Glass Foundation, we are doing all of these things at once as we prepare to transition into the New Year. We're feeling gratitude, hope, and anticipation in equal measure – with perhaps just a touch of wonder at how we're going to achieve all of the inspired goals we have set for ourselves in 2017…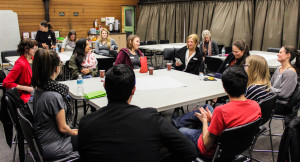 The answer, of course, is by grounding ourselves in the support and encouragement that constantly surrounds us. The Looking Glass Foundation is so fortunate (and proud!) to have an ever-expanding community of wonderful supporters, like you, who are committed to a world without eating disorders. We hope that you will take a moment this season to reflect on the significance of your role, and to recognize how much of a difference you make by supporting all of our programs, services, and initiatives. Not only do you help sufferers & their loved ones get to the other side of eating disorders, but you also help each and every one of us at the Looking Glass Foundation to carry forward your passion, your stories, and your successes into everything that we do.
Last month, the Looking Glass had the pleasure of hearing some of these stories and successes at the first-ever Volunteer Development Event. I would like to take this opportunity to share a few highlights and key messages from the event, for the benefit of all those who were unable to attend. Fortunately, Looking Glass volunteer Breanna Anaka had her camera at the ready throughout the entire afternoon to capture all the fun we had - thank you, Breanna!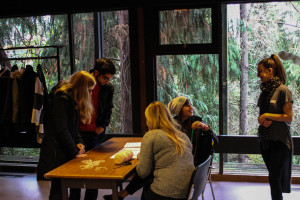 Firstly, I would like to extend a big thank-you to everyone who attended the inaugural Looking Glass Volunteer Development Event on Saturday, November 19th, at Van Dusen Gardens – an afternoon of engaged discussion, learning, and networking in a relaxed setting. We got to enjoy some delicious coffee that was generously donated by JJ Bean , and we gave away two fantastic door prizes as a bonus for attending! Congratulations to Tamara Oceguera and Alicia Putinski, our lucky prize winners.
I'd also like to thank my brilliant Looking Glass colleagues, who not only kept the entire event running smoothly from start to finish, but also elevated the discussion with their experienced insight. Many thanks to Stacey Huget (Executive Director), Daniel Kong (Project Manager), Karen Wall & Amy Pezzente (Online Peer Support), Kaela Scott (Hand in Hand), and Nicole Keay (Communications) for all their work and support.
We opened the event with some words of welcome and gratitude from our Board Chair, Malcolm Leitch, who reminded us of the enduring impact the Looking Glass Foundation has upon eating disorder sufferers, their loved ones, and their communities. We were then very fortunate to hear from five passionate women who spoke to their experiences as Looking Glass volunteers: we heard about the ways in which volunteering has taught them to better understand themselves; we heard about the resilience they have seen in ED sufferers, and the strength the sufferers find in supporting one another; and we heard that the Looking Glass "feels like family" – a sentiment I have certainly come to agree with in the few short months that I have been with all of you. To each of the following speakers, thank you for your inspiring words and insights, and for your ongoing commitment to the Looking Glass community!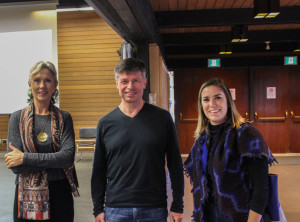 Amanda Negri – Hand in Hand
Leyla Brucar – Online Peer Support
Karina Franzke – Annual Gala
Ali Eberhardt – Summer Camp
Carolyn Digby – Blogging. Carolyn actually created a short video for us to watch, as she is currently living in Toronto!
Speaking of inspirational, we also got to hear from our Executive Director, Stacey Huget, with an update on the Something's Gotta Give campaign. Stacey highlighted the passion, courage, resilience, and raw candor that was evident in each of the creative and personal contributions submitted by campaign participants. She is currently hard at work editing and narrating the film footage in advance of the highly anticipated, nation-wide release of the Something's Gotta Give documentary in the Spring of 2017! Many, many thanks to Robyn Unwin for all her hard work and dedication in shooting and editing the footage – we are very grateful to have her on this project.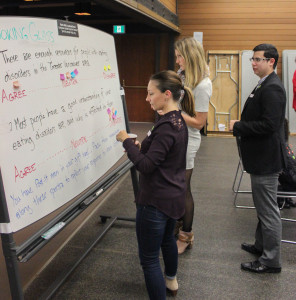 We spent the remainder of the afternoon discussing current issues related to eating disorders and how the Looking Glass can address them. The Looking Glass Program Coordinators joined the volunteers for a provocative, informed dialogue around eating disorder resources and education. The discussion reinforced a number of important issues and goals:
Resources: there is an ongoing need for ED resources that are free, accessible, visible, needs-based, and diverse
Education: not enough people have a good understanding of what EDs are, and who is affected by them
Stigma: eating disorders are still heavily stigmatized, and many sufferers do not feel safe enough to reach out for help
Silent support: when ED sufferers do reach out and disclose their struggles, many are surprised by the outpouring of support and mutual sharing they receive from others who have also stayed silent about their own ED experiences
Dialogue: this culture of silence speaks to the need to generate an audible community dialogue, between all levels of stakeholders, around eating disorder-related issues
Youth Engagement: there is a strong need for programs that facilitate education around eating disorders, media literacy, and emotional wellbeing for young people
With these issues in mind, 2017 is going to be a very exciting year for the Looking Glass Foundation! We are planning a Community Dialogue Series, expanding our Hand-in-Hand Support Program, and exploring the potential for a Youth Engagement program. Amidst these new initiatives, the upcoming nation-wide screening of Something's Gotta Give, and the ongoing development of our existing programs, we are feeling strong, empowered, and deeply grateful to our amazing community of Looking Glass supporters. Thank you for all of your ideas, your passion, and your commitment - we hear you, and we stand with you.
But before we get too carried away with all the new things we're going to do next year, let's not forget about all the wonderful things that are already happening:
Residence: 14-bed treatment facility in Vancouver for young men and women (17-24)
Online Peer Support: 6 regularly scheduled chats each week, reaching over 100 users
Blogs: The Looking Glass has posted over 100 blogs, reaching thousands of people
Hand-in-Hand: We have now matched 35 participants with LGF-trained supporters
Summer Camp: Our longest-running program continues to host 22 campers each year
Scholarships: Each year we award $15,000 in scholarships to young people in recovery
Volunteers: Over 400 people have joined the Looking Glass Volunteer ranks
Foundation: In 2016, we created three brand new team member positions - you can meet the whole LGF team on our website
TO all of our supporters who make what we do possible: thank you, every single day. We feel so honoured to have you with us.
So anytime it feels as though the holiday season is just a bit too much, or your final exams and papers are weighing on your mental wellbeing, or the politics of dispassion seem to threaten the will of the hopeful in this world, just remember that you are an integral part of the positive change that is happening every day. Together, we will educate our communities. Together, we will be the supportive scaffolding for individuals and families who suffer. Together, we will get to the other side of eating disorders.
Together, we will bring in a better New Year.
Wishing you a warm and bright holiday season!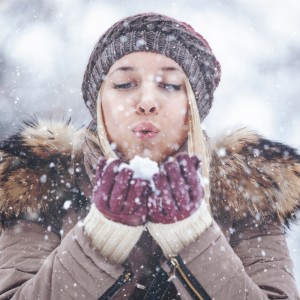 Katalina Bernards

Volunteer Coordinator