Breaking the Silence 
By Carolyn Digby
I had an eating disorder in my late teens that has been a secret for a solid chunk of my life. I shared with a few, and very carefully selected people, that I had suffered from anorexia for a number of years. Today, my disordered years feel like a century ago, and I am very proud to say I am fully recovered. What I've accomplished from that time would completely shock my past self.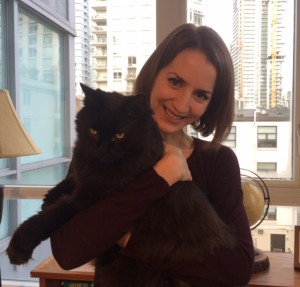 My eating disorder had developed as a coping mechanism for how unintelligent and unworthy I had felt as a teenager, despite having unlimited support from family and friends, as well as direct evidence through my studies and extracurricular activities that this was far from the truth. I felt I was never perceived or recognized as being intelligent, which was an attribute I valued very highly. I craved external validation that I was "enough", and I truly believed I could never compete with my unbelievably bright family and peer network. To cope with these feelings, my teenage reasoning was that if I wasn't as smart as my peers, at least I could be extremely likeable and "pretty"; this was personally interpreted as becoming exceedingly people pleasing, and super thin.
It wasn't until I entered intensive treatment for anorexia in my early twenties that I realized my self worth on my own terms. Only when I tapped into my passions through treatment did I recover fully. I now recognize I am talented, and I have a lot to offer the world. I now recognize there are many types of intelligence and actively try not to compare my own strengths to others; everyone is different. By really focusing on what made me happy and what drives me, I accepted myself.
My choice in keeping my eating disorder a secret was mainly a self-serving behaviour. My greatest fear was that I would be treated differently once the cat was out of the bag. I never wanted to admit my disorder to anyone, as if overcoming a debilitating mental illness was something to be ashamed of.
By keeping this a secret, I was hiding a component of what made me who I am today. It didn't allow me to truly be vulnerable and develop authentic relationships. And while my eating disorder isn't who I am today, it played a solid role in building and shaping my character.
By keeping my secret, I didn't foster recovery in others or contribute to the conversation surrounding eating disorders. This is so important in reaching a world where they don't exist; where they are indeed acknowledged as a serious problem. While not everyone has an eating disorder, sadly it isn't a topic that is un-relatable in modern society. I have found myself in conversation with others about important issues surrounding recovery, body image, and mental illness. When we share our personal stories, we bond and true friendships are made. It shows us that we are not alone in our struggles. That real change can happen.
It took me awhile to reach this level of acceptance with initiating the conversation but the true shame would be not using my story as a catalyst to help others suffering, whether it be through professional work or personally. So why not talk about it? If sharing my story helps one person, then that is more important than anything I could have ever asked for.
My dream is for a world in which eating disorders do not exist. A world where people can talk openly with each other about how they are feeling, support one another if they are struggling, and are comfortable with seeking help. I don't want future generations to suffer in the way we have. If sharing our stories helps us get even one step of the way there, then it is worth it. Change doesn't happen with silence.
Carolyn went to the University of Victoria for psychology, and is currently working towards applying for a Master's degree in the same subject. She hopes to uncover what sociological and personality aspects contribute to the development of eating disorders. Otherwise, Carolyn loves writing, drawing, travelling the world, and of course, her handsome cat.