2016 Gala Recap:

On Friday March 4th, we returned to the Rocky Mountaineer Station in Vancouver to host our 12th Annual Fundraising Gala. Some 325 guests joined us in celebrating our many accomplishments over the past year as well as our exciting plans for the year to come.
This year's theme was tied into our Something's Gotta Give campaign – a digital conversation, public rally, and a feature length documentary that centers on a single question: "If we're really going to get to the other side of eating disorders, something's gotta give ... what IS it?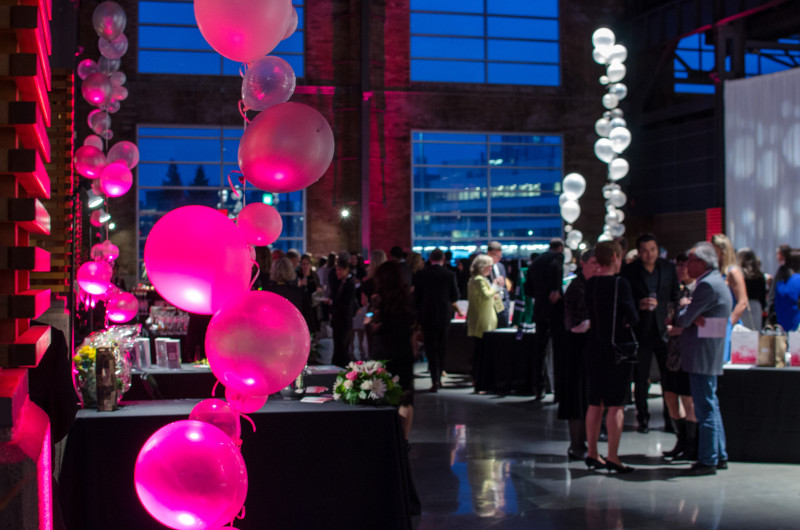 The night began with a cocktail reception, hosted by our Platinum sponsor, TELUS. Guests were treated to a fabulous array of appetizers and cocktails while gazing over the many, many amazing silent auction items ranging from Vancouver Canucks signed gear to wine boxes to beautiful pieces of artwork and hand made jewellery.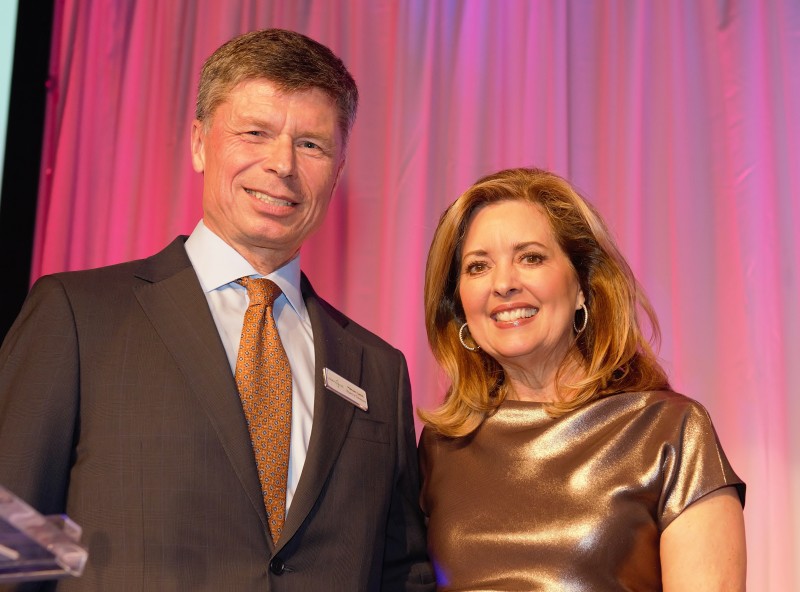 As the cocktail reception winded down, guests entered into the beautifully decorated dining room where they were welcomed by Michel Proulx, Branch Manager at Scotiabank's North Vancouver Branch on behalf of the evening's Presenting sponsor, Scotiabank.  Long-time emcee Pamela Martin then took to the stage to get the main events underway.  (Pamela is pictured above with Board Chair, Malcolm Leitch)
Before entering into the Live Auction and Fund In Need, our very own Kaela Scott took to the stage to share her story and perspectives on eating disorder recovery.  Kaela has recently joined the Looking Glass to lead our new Hand in Hand Support program.  A peer support program that provides regular, meaningful support for anyone who is either seeking to recover from their own eating disorder or to support themselves and their loved ones through another's recovery journey.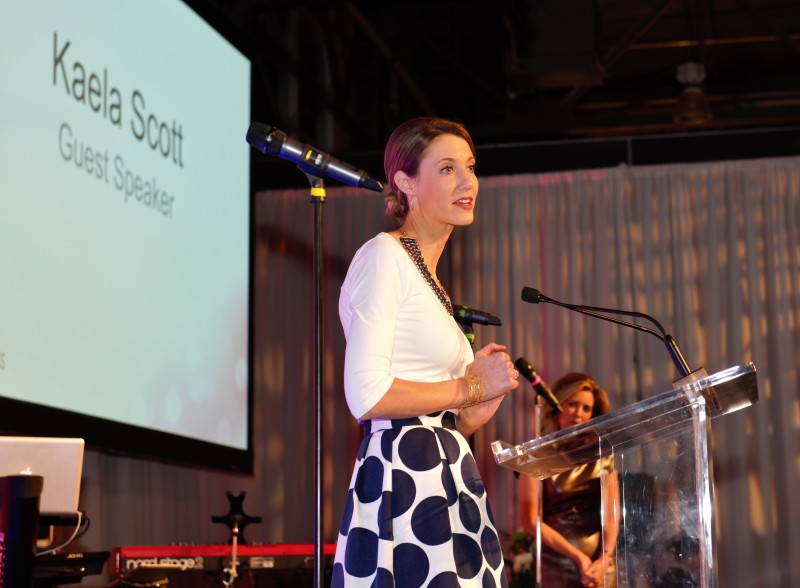 After Kaela's heartfelt delivery, long time friend of the Looking Glass and "celebrity auctioneer" Howard Blank took the stage with Pamela to get the bidding started.  Howard always brings amazing energy to the stage and we are thankful for his dedication and support each year.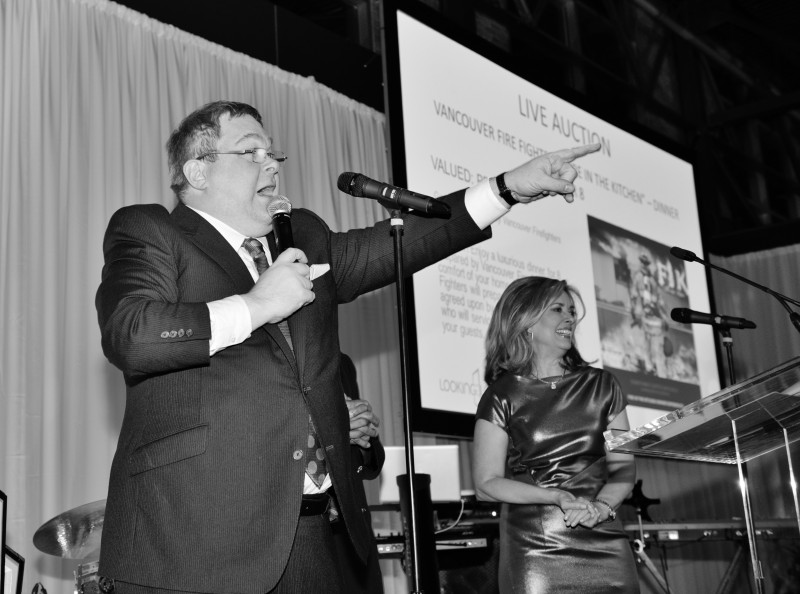 Just as it has in the past, "Fire in the Kitchen", a luxurious dinner for 8 prepared by the Vancouver Fire Fighters, was the auction hot item with several groups furiously trying to outbid each other.  It was White House Design Company that squeezed in with the winning number.  Here is Jan from White House pictured with a few of Vancouver Fire Fighters.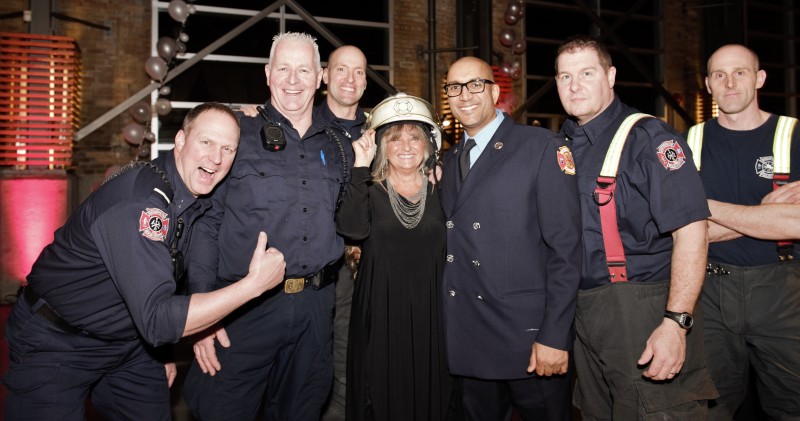 With the serious business aside, it was time to really get the party started. Vancouver's Famous Players Band took to the stage to get the room on their feet. Guests hit the dance floor and danced the night away!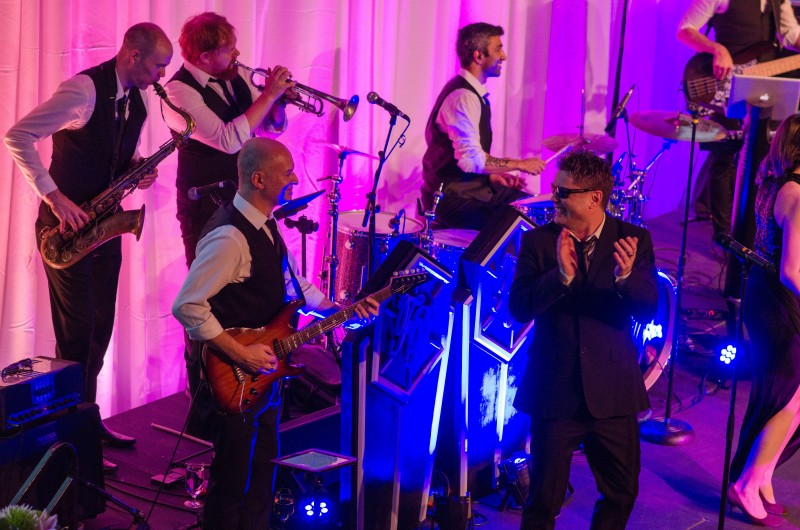 The evening was a spectacular success! We have to thank all of our sponsors, auction donors and guests for making it all possible.  Getting to the other side of eating disorder is what the Looking Glass Foundation is all about. Each year, It touches our hearts just how supportive and generous our Looking Glass Community really is.  With your help, you truly are helping us make a difference.  Together, we really can get to the other side of eating disorders!
Thank you!