Think Before You Laugh: The Dangerous Effects Of Joking About Eating Disorders
By Ljudmila Petrovic
At this year's Emmys, one of host Jimmy Kimmel's big jokes was to hand out peanut butter and jelly sandwiches to the audience. Sounds great, right? Except that it was accompanied with a quick quip, "I know these award shows are long and you haven't eaten since Labor Day." The joke being that it is common knowledge that celebrities do not eat. Even if we look past the dangerous misconception of how eating disorders operate (i.e. the idea that re-feeding along will solve what is a complex psychological, physical, and emotional disorder), even if we forgive Kimmel's delivery, jokes like this are cheap and unoriginal.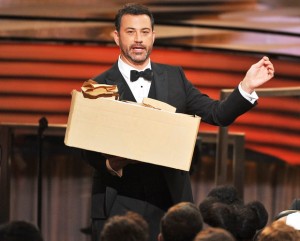 This does not mean that humour is inherently off limits. There is a number of examples of how humour can be used for empowerment and recovery: there is comedian Margaret Cho, who has used her stand up comedy as a platform to discuss a myriad of issues, including her past eating disorder; there is Stand Up for Mental Health, a program that uses stand up comedy as a format for people to openly discuss their mental health struggles. The crucial difference, however, is who is controlling the narrative. Is it an individual taking back their life and making a conscious decision to use humour as a tool? Or is it Jimmy Kimmel using a cheap and uneducated trope to get ratings?
When experiences such as mental illness and eating disorders become the constant brunt of the joke to a point where it is normalized and even considered a tired trope, it sends a message. On a surface level, the joke may be about celebrities in Hollywood, but it is really trivializing the intense scrutiny and pressure that these individuals face, and the distressful impact that disordered eating has on their lives—not to mention the unrealistic and dangerous body expectations that trickle down to those of us who consume this media. On a greater scale than that, it also sends the message to viewers that may be struggling with disordered eating that their experiences can easily be dismissed as something that everybody does, that is so commonplace, that it can be lightly chuckled at. But the reality is, eating disorders are dangerous, they are deadly, they destroy lives. Even for those individuals who manage to recover and lead healthy lives, there can be lasting impacts—if not on their bodies, then in their memory, their psychological and emotional wiring.
Kimmel had a lot of power that came with hosting the Emmys. If he really wanted to make this joke, he could have used satire to challenge the industry and its unrealistic expectations. He could have used his platform to address our society's preoccupation with looking a certain way, especially for young girls and women. Instead, the subjects of the joke were the exact people who are the most vulnerable. Individuals with eating disorders are already filled with shame and guilt, they are already isolated. Tropes like this send the message that these individuals and their struggles are the actual joke, and that is a dangerous statement to make.
Photo Cred: US Magazine
Ljudmila graduated from SFU, where she studied psychology and gender studies. She lives in Vancouver, BC and is doing her MA in counselling psychology, with the goal of doing women-centred therapy.