Dr. Meris Williams: The Psychologist, The Advocate, Our Scholarship Honoree

By Katalina Bernards & Nicole Keay
As a community of compassionate people dedicated to a world without eating disorders, we understand the impact of empowering those who are breaking through to the other side of this illness. Each year, the Looking Glass Foundation awards $15,000 in scholarships to BC students who have received treatment, or are currently receiving treatment, for an eating disorder. Our three categories of scholarship underscore three strengths in overcoming an eating disorder: Persevere; Pursue Your Passion; and Rise Above.
The significance of our Rise Above Scholarship is twofold. Not only is it awarded to a student who is making a difference through community service and leadership, but it also recognizes individuals within our own Looking Glass community who consistently model those same attributes. This year, the Looking Glass Foundation is thrilled to name the 2017 Rise Above Scholarship in honour of Dr. Meris Williams, who has served as a counselling psychologist at the Looking Glass Residence in Vancouver (formerly the Woodstone Residence on Galiano Island) and as the featured clinician for our "Ask an Expert" service.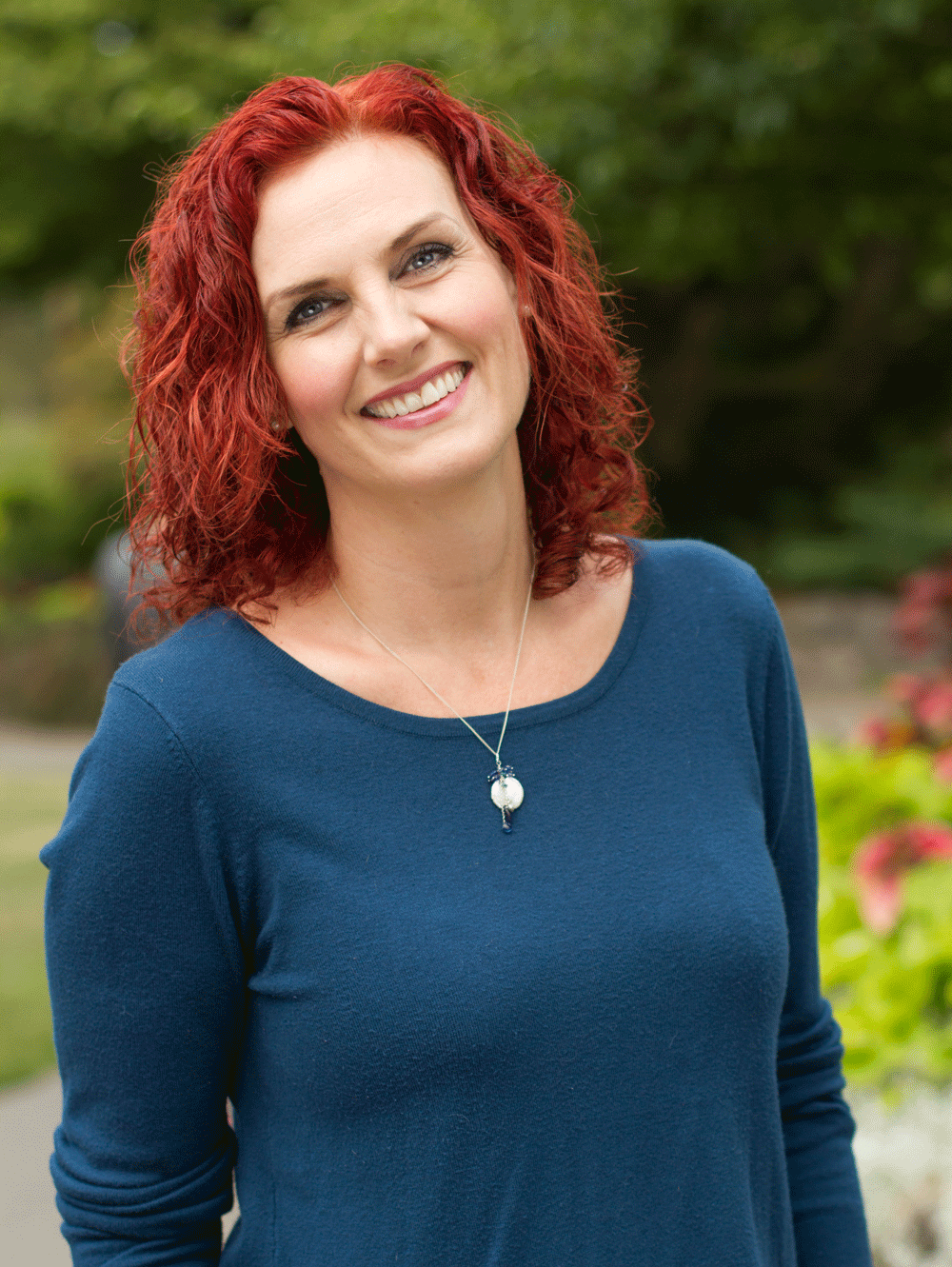 We sat down with Meris at her Vancouver office last week to learn more about her extraordinary career, and to hear about her own personal connection to the Looking Glass.
What inspired you to begin working with the eating disorder population?
Oh boy, I've thought long and hard about how to answer this question! Over the years, I've answered that question differently depending on the context. But, I personally had an eating disorder. And that's not something I have ever disclosed publicly.
Wow. So, this is something you've held back for a long time?
Yeah. We don't really know what the research has to say about the impact of a therapist disclosing an eating disorder, so that was a really big reason why I held back. And another big reason is just stigma. What my fellow professionals in the field might think. I've been thinking a lot about Marsha Linehan –she's a psychologist in the US, and the originator of Dialectical Behaviour Therapy – I think it was in 2011 when she came out about her own mental illness and she said, "I will no longer be silent." I just think it was really powerful. And I'm kinda done with keeping it under wraps. So! That is why I got into this field. And it was because I really didn't want anyone to have to go through what I went through. If I could support somebody, or protect people from the hell that I lived through, then that would make a life worth living, and a career worth having
I really didn't want anyone to have to go through what I went through. If I could support somebody, or protect people from the hell that I lived through, then that would make a life worth living, and a career worth having.
Tell us about your early advocacy work in the 1990s.
When I was 25-ish, I was sort of in the recovery process at that point, so it was a natural fit for me to want to volunteer with eating disorder advocacy organizations. I lived in Victoria, and I volunteered with the BC Eating Disorders Association. We did outreach to schools, we learned how to do peer counseling, we were involved in protesting the sociocultural aspects of eating disorders, so that was a pretty formative experience. I did that for about two years, and then I moved to Vancouver. I became the Administrator and Volunteer Coordinator at ANAD - Anorexia Nervosa and Associated Disorders. We changed the acronym to stand for Awareness and Networking Around Disordered eating, and then it became Jessie's Hope, and then Jessie's Legacy. I was there for three or four years, and we ran a bunch of different programs... Oh! We did this amazing project – we collaborated with artists on something called The House of Mirrors. Artists in the community volunteered with people who had eating disorders, and it became this traveling art project that went all around BC. I don't know where those pieces are, but there is one that I would surely love to have in my home!
Did that advocacy work help you in your recovery?
I think so. There was processing happening, integrating, "What has this been for me? What is the meaning of this? Why did this happen to me, why did I land on this eating disorder?" So yes, I would agree it was actually a really important part of my recovery.
Did you know early on that counseling psychology was your chosen career path, or did you have other aspirations?
I was interested in psychology pretty much from the get-go in university. I remember taking Psych 100 at U of T, there were, like, 1500 people in my class, in a big amphitheatre. It was a pretty overwhelming experience. I didn't do very well in the class, but I really, really liked it.  I knew that I wanted to be a psychologist. Psychology was my jam.
What first connected you with the Looking Glass Foundation?
When I was doing my Master's practicum at BC Children's Hospital eating disorders program, I ran into the three founding moms. I remember the warmth from these mothers towards me. So there was a connection from way back then. I followed what they were doing over the following decade, and I was just blown away by what they accomplished. Just as I was close to finishing my PhD, I learned they were creating a residence on Galiano, and I was like, "It's a sign!" So I applied, and started working there right from the get-go. I was there for a year and a half, and then the commute became too much. I went into outpatient eating disorders treatment work at the Fraser South Eating Disorders Program, and then I just needed a breath of fresh air, so a friend hired me doing something completely different – I worked with injuries and returning to work through Orion Health for a year. Then I heard that Woodstone was moving here to become the Looking Glass Residence [in Vancouver], and I was like, "It is unfinished! I must reapply!" And so I did, and I got that job, and I was there for two years. During that time, Deborah Grimm approached me about doing the "Ask an Expert" column and so I did that for two years as well.
Let's shift gears a bit and dive into your work as a psychologist. Could you share some of the moments in your career that have had a lasting impact on you?
I think what excites me the most, and what is most moving to witness, is when somebody begins believing that they can survive this world, that they can tolerate really painful things, without needing to rely on the eating disorder. There are a couple of people in my practice whom I have seen for a long time, and they're just now surprising themselves.And it's the most delightful, wonderful experience to be with somebody, to accompany them, to witness the recovery process – which is so often slow and incremental. It's glorious! That's why I do this work.
We've talked about Meris the Psychologist, and Meris the Advocate, What can you tell us about the everyday Meris?
Well, I can say that I am utterly recovered. I know people that utterly recover from eating disorders. Now, are there days when I don't like my body so much? Yeah, there are. But these are vestiges of old neural networks, and this is to be expected. That's actually part of what came out of my doctoral research, which looked at therapists who themselves had eating disorders, who were then working in eating disorder treatment. So in my personal life, I'm a recovered person, but continuing on with my healing. We all have trauma. [Pause] So… what else? [laughing] I have cats, probably a few too many… I love to dance, I love Zumba, and I recently took up adult ballet – I'm really enjoying the music and the grace. What else? I have a wonderful, wonderful partner. He's just someone who supports me to be the best that I can be, and loves my intelligence, and is so proud of me. And our relationship, too, has been such a foundational part of me being able to come to love myself, to appreciate myself, to value myself… I also continue to open myself to new experiences. Because life is short, but wide, and I really only have maybe another 40 years, so there are a lot of things that I want to do and see.
How does it feel today to be named the 2017 Looking Glass Rise Above Scholarship honoree?
I was flabbergasted and delighted when I got the email! I was so moved, so honoured, so privileged, so excited! I was texting and emailing all my friends and colleagues, and my partner, and everyone has been like, "What? That's so cool! Who has a scholarship named after them?!?" So I'm just really appreciative of being recognized for the work that I've done and the hours that I've volunteered, and the effort that I've made to try to make a difference. It feels really good.
What message would you like to give to this year's scholarship applicants as they begin this new chapter in their lives?
I would like to encourage them to be as kind as they can to themselves in this process. And that means acknowledging how hard it is, and to really give themselves credit for having been resourceful enough to land on an eating disorder to help them get through whatever it is that they needed to get through. Eating disorders are multifactorial, we know that, but there's a resourcefulness in people when they first develop an eating disorder – it presents a solution. And then the eating disorder starts getting in the way of the life that they would like to have. So if they can hold that together with self-compassion, and just to try to remain hopeful, because it is possible for so many people to recover. I would really love the scholarship recipients to try to remember to be kind to themselves. Recovering from an eating disorder is one of the hardest things that a person can do. And it's not an easy choice – in fact, in some ways it can be the harder choice.
I would really love the scholarship recipients to try to remember to be kind to themselves. Recovering from an eating disorder is one of the hardest things that a person can do.
A big thank you to Meris for her openness. There is so much power in sharing our stories, in having a dialogue that challenges the stigma and shame. Her story will have an impact on many who struggle, not just with eating disorders, but with whether or not they should come forward. And in speaking about that innate resourcefulness eating disorder sufferers have, Meris has highlighted a critical and thought-provoking aspect of this disease, one we look forward to fleshing out further in a future blog post.
*
Applications for the 2017 Looking Glass Scholarships are now open! For application eligibility and guidelines, please visit our Scholarship webpage.