Interview with Kaela Scott
We sat down with LGF's very own ED therapist, Kaela Scott, to answer some common questions about our wonderful peer support program, Hand in Hand. Kaela spearheaded this program two and a half years ago and since then, with the help of the LGF team, has facilitated over a hundred matches between inspiring participants and amazing volunteers - some of which have been matched from the very beginning!
As a Therapist, what makes you so excited about this program?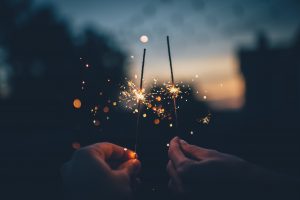 I have the incredible benefit of working for Looking Glass while also running a private practice. What this means is that I see first hand the kind ofsupport people are looking for out in the community. Often those who struggle feel like they don't have someone they can talk to about what they are experiencing. Our Hand in Hand program, I believe, has changed how people can receive support that is recovery focused without it being treatment. It meets people where they are at emotionally in their recovery, which is unique because readiness is not a factor for receiving support. Very rarely do we have an opportunity to develop a relationship with someone who cares about our overall wellbeing and who is there to provide support without other expectations or conditions. After two and a half years I can confidently say that Hand in Hand is creating a change in the Eating Disorder support community one connection at a time.
After two and a half years I can confidently say that Hand in Hand is creating a change in the Eating Disorder support community one connection at a time.
What are the limitations of the program that may prevent people from participating?
One of the sad experiences many of our participants have faced is reaching out for help only to find out that so many programs either tell them they are too sick or not sick enough to participate. At the Looking Glass, we do our best to have as few limitations as possible. Currently for our program participants need to be 14 years and older. In addition, we require that people be medically and psychiatrically stable. What this implies is that a participant can't currently be hospitalized or require hospitalization for their disorder or any other psychiatric condition. Hand in Hand is run by volunteers and ensuring that everyone is safe while they are connecting is mandatory.
What are the greatest strengths you have noticed about this program now that it has been running for almost 3 years?
There are many but I will go with my top 3:
Peer support: Many of the participants and volunteers have spoken about how great it feels to have someone to talk to that isn't a therapist or another member of their treatment team. Many connections, which we call matches, have shared that it feels like they have gained a friend and that their recovery process has become much more possible as a result of this program.
Community of Support: Because this program is open to almost everyone, we can provide support while people are waiting for treatment, have just been released from treatment or are just starting to feel open to support. We have people of all ages (youngest 15, oldest 70), backgrounds and disorders. This program has the benefit of being able to provide support to just about anyone who asks for it.
Relapse Prevention: Many of our volunteers have a history of struggling with an eating disorder and have found that giving back through this program has reinforced their belief in recovery. One of my favorite quotes from a volunteer is "I never knew how recovered I was until I started supporting my match in this program." Knowing that this program provides support on both sides is incredibly rewarding.
 Is there anything you wish this program provided that it doesn't currently?
I am really proud of the program and the support it provides to the eating disorder community but one area I would like to see us grow into is groups. There is a really high demand for group sessions and it is something we are very aware of at the Foundation. My hope is that at some point we will be able to offer that to our community.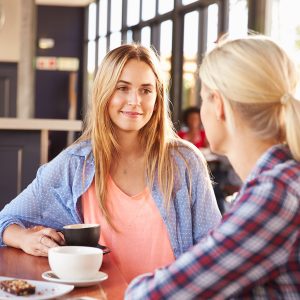 As a participant, how long can I stay in this program?
This is one of the most special things about Hand in Hand. At Looking Glass we understand that eating disorders don't have a predictable recovery date and that support needs are different at various stages of the recovery process. While volunteers are asked to commit to a minimum of 6 months from the start of a match, participants can take part in the program for as long as they want. We have many original matches who have been connected for the entire duration of the program, and other participants who have been matched with more than one volunteer.
Seeing as the Foundation is based in Vancouver, do you have to live in Vancouver in order to volunteer or participate in the program?
Not at all. That's one of the things that is so great about this program is that you can live anywhere in the country and participate, thanks to Skype. The only limitation for volunteers is that they have to take the training in person, which for the foreseeable future only takes place in Vancouver. Many of our volunteers have moved and live all over the country and are matched in their current city either in person or over Skype. 
How much knowledge or experience of eating disorders do volunteers need to have in order to become Hand in Hand Peer Supporters?
The only thing we expect from our volunteers is that they have a genuine interest in supporting this population. While many of our volunteers have a personal history of an eating disorder, it isn't expected or required.
As a volunteer, what kind of training can I expect before being matched in the program? 
Volunteers are trained over a 2 day weekend using a combination of theory, discussion and role play to help develop their skills and knowledge. From my experience, teaching using all of these modalities sets the volunteers up to feel confident supporting someone who is struggling with an eating disorder. 
Is this program free?
It is! The only costs associated with the program are the beverages participants may choose to purchase if they go for coffee with their match.
If you'd like to read more or sign up as a participant visit here. 
If you'd like to volunteer, you can sign up here. 
---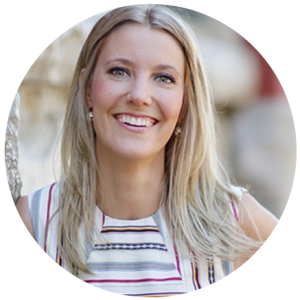 Kaela Scott is a Registered Clinical Counsellor who specializes in Eating Disorders. She runs her own private practice and works with the Looking Glass Foundation in both their summer camp and their Hand In Hand Program. She has been passionate about working with eating disorders since freeing herself from her own struggle and realizing what it is like to be happy and well. When she isn't working, you can find Kaela either cozying up with a cup of tea and her friends or up in the mountains going for a hike.