Looking Glass Foundation's 16th Annual Gala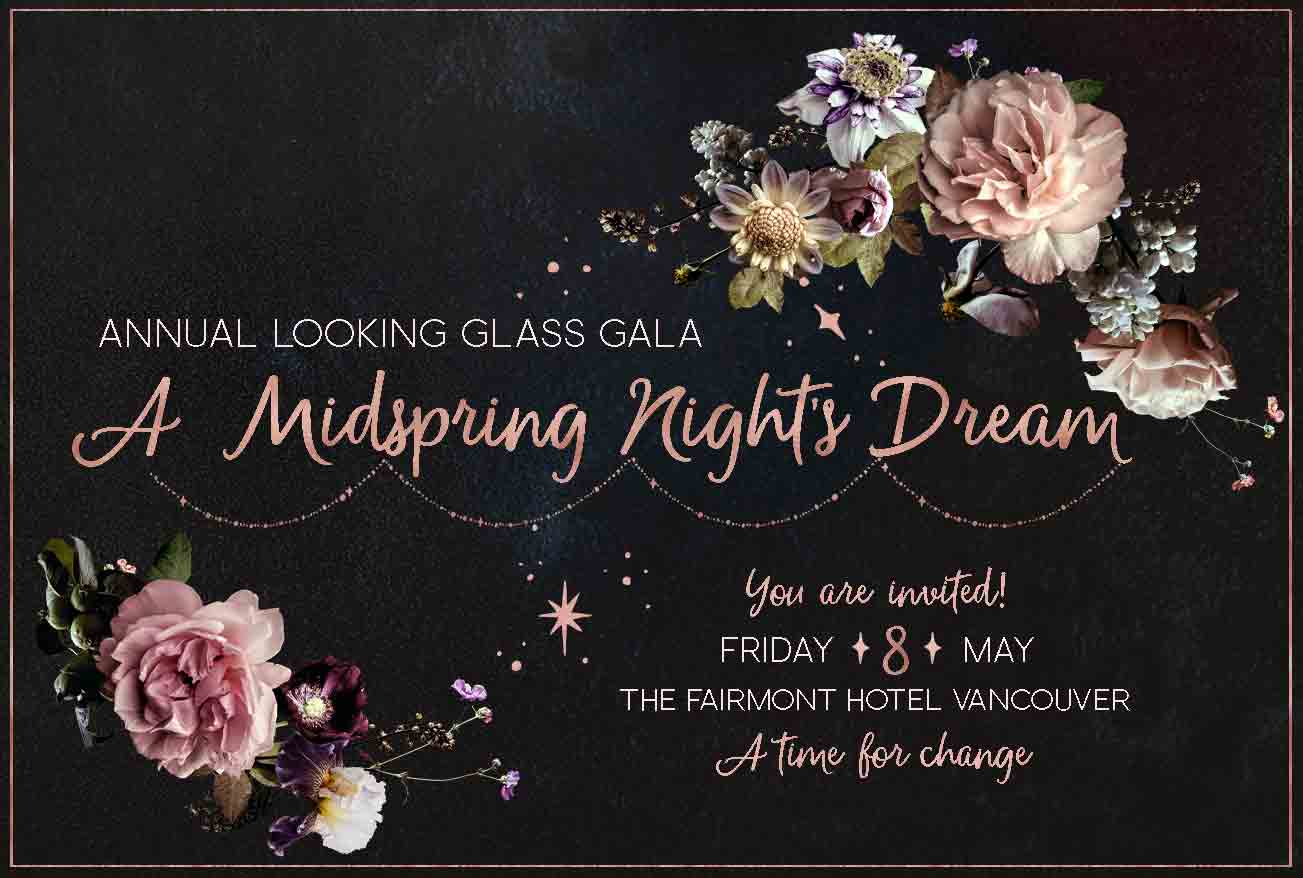 On May 8th, 2020, join us for our 16th Annual Gala - A Midspring Night's Dream - an elegant evening celebrating and embracing change. Change represents our community in so many ways. Every eating disorder recovery journey starts with the decision to change - to begin the process of healing and fighting back against this mental illness. Even though it takes immense courage to make that decision, we see it everyday in our community - every time an individual registers for one of our programs, or opens up to a friend about what they are going through, or enters a treatment program - the desire for change and growth is there. 2019 has been and 2020 will be a time for change for us as well. This year we have moved our office to the vibrant Mount Pleasant neighbourhood, improved the volunteer training for our programs, and welcomed two new staff members. We are also excited to announce that we are moving our 2020 Gala to a new venue - the exquisite Fairmont Hotel Vancouver. We are grateful to share in a lesson with all of those embarking on their eating disorder recovery journey: The only constant is change, and change is nothing to fear.
With the generous support of Gala guests, sponsors and auction donors, the Looking Glass Foundation continues to make a difference in the lives of those who struggle with eating disorders – serious mental illnesses that affect nearly 1.5 million Canadians. Since being founded in 2002 by dedicated parents seeking improved care for their loved ones suffering from eating disorders of every kind, we've been finding innovative ways of engaging and supporting people on the path to eating disorder recovery, and of filling the many gaps in existing services. There is a strong demand for our programs and services, and we are committed to enhancing our impact and reach, so we can help as many individuals as possible.
Where:
The Fairmont Hotel Vancouver
900 West Georgia Street, Vancouver
When:
Friday, May 8th, 2020
6 pm - 10:30 pm
Ticket Price:
$350 per individual
Tables of 10 – $3,500
Join us on May 8th, 2020. Registration coming soon!
If you are interested in sponsoring our 16th Annual Gala, we would love to hear from you.
For partnership or general inquiries please email gala@lookingglassbc.com or phone us at 604-314-0548.