Looking Glass Foundation's 16th Annual Gala (Cancelled)
GALA UPDATE - Monday, March 16th, 2020
Little did we imagine the change that would be upon us when we established our Gala 2020 theme.
We looked so forward to welcoming you on May 8th. Through your Gala support, you enable us to reduce isolation, instill hope, and sustain recovery for the hundreds of people who reach out to us each year.
Unfortunately, due to concerns and recommendations around the COVID-19 virus, Gala cannot take place on May 8th. As an organization that is focused on mental, emotional, and physical well-being, the last thing we want to do is imperil our guests, volunteers, and everyone who helps make Gala successful.
At the Looking Glass Foundation, we provide safe and impactful programs and support to those who are working so hard on their road to recovery from an eating disorder. We already have wait lists – that was to be our Gala funding focus – and the repercussions of the COVID-19 virus and economic downturn will increase anxiety within vulnerable populations – in particular the people we serve.
The good news is – much of the support we provide is, or can temporarily be, online or phone-based. Our staff is able to work from home if necessary, so program oversight will continue. If you know of people who are suffering during these challenging times, please invite them to reach out to us (
https://www.lookingglassbc.com/programs
).
Forgoing Gala net revenues will have a negative financial impact on the Foundation. We are contingency planning, and are confident Looking Glass – as with so many of the brave people we serve – will bounce back stronger than ever. 
Should you wish to make a donation in lieu of attending Gala, we would welcome your support. Please call us (604-314-0548) or donate online
https://www.lookingglassbc.com/donate
. If you would like to chat, please reach out any time. Thank you for all you do. We will genuinely miss seeing you at Gala this year.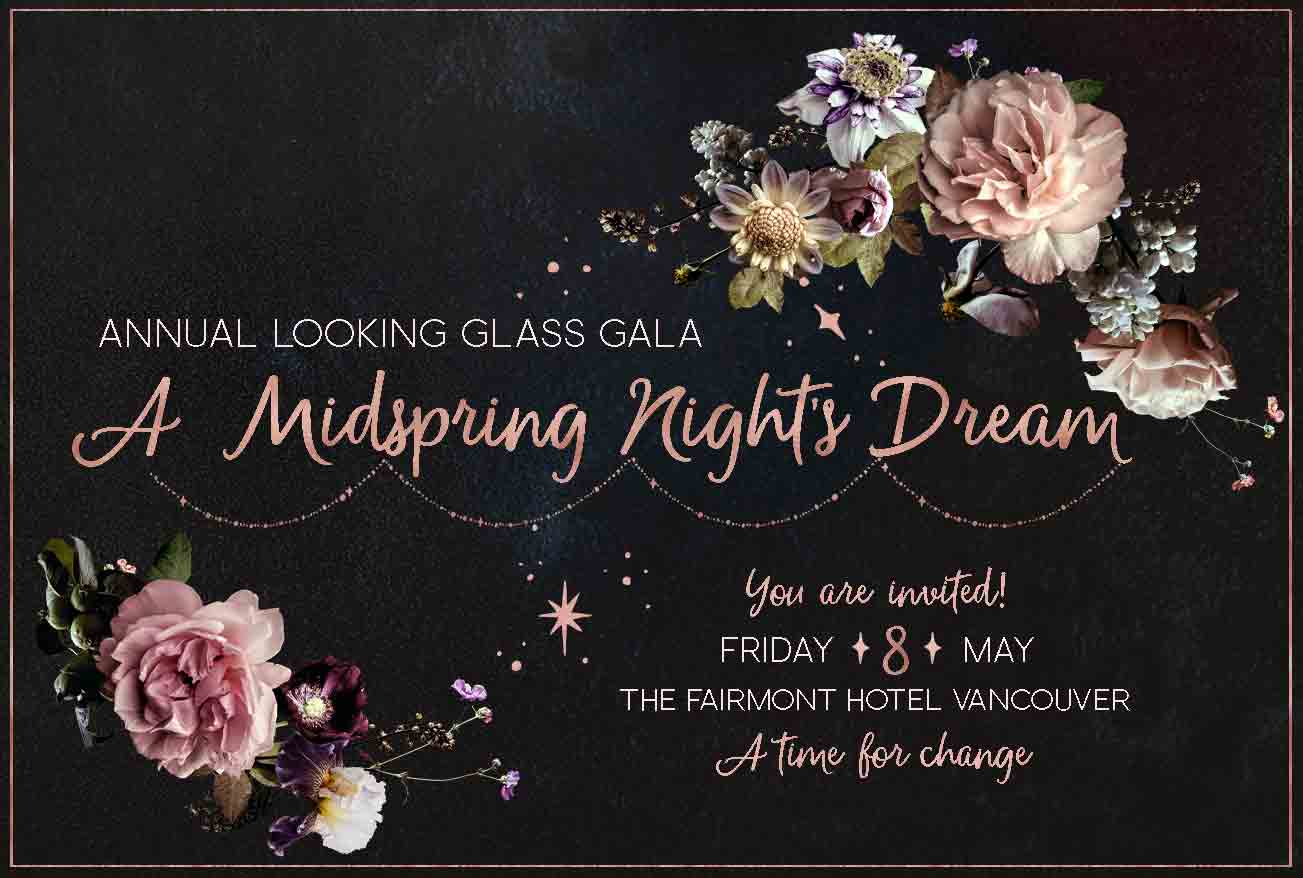 On May 8th, 2020, join us for our 16th Annual Gala - A Midspring Night's Dream - an elegant evening celebrating and embracing change. Change represents our community in so many ways. Every eating disorder recovery journey starts with the decision to change - to begin the process of healing and fighting back against this mental illness. Even though it takes immense courage to make that decision, we see it everyday in our community - every time an individual registers for one of our programs, or opens up to a friend about what they are going through, or enters a treatment program - the desire for change and growth is there. 2019 has been and 2020 will be a time for change for us as well. This year we have moved our office to the vibrant Mount Pleasant neighbourhood, improved the volunteer training for our programs, and welcomed two new staff members. We are also excited to announce that we are moving our 2020 Gala to a new venue - the exquisite Fairmont Hotel Vancouver. We are grateful to share in a lesson with all of those embarking on their eating disorder recovery journey: The only constant is change, and change is nothing to fear.
Where:
The Fairmont Hotel Vancouver
900 West Georgia Street, Vancouver
When:
Friday, May 8th, 2020
6 pm - 10:30 pm
Ticket Price:
$350 per individual
Tables of 10 – $3,500