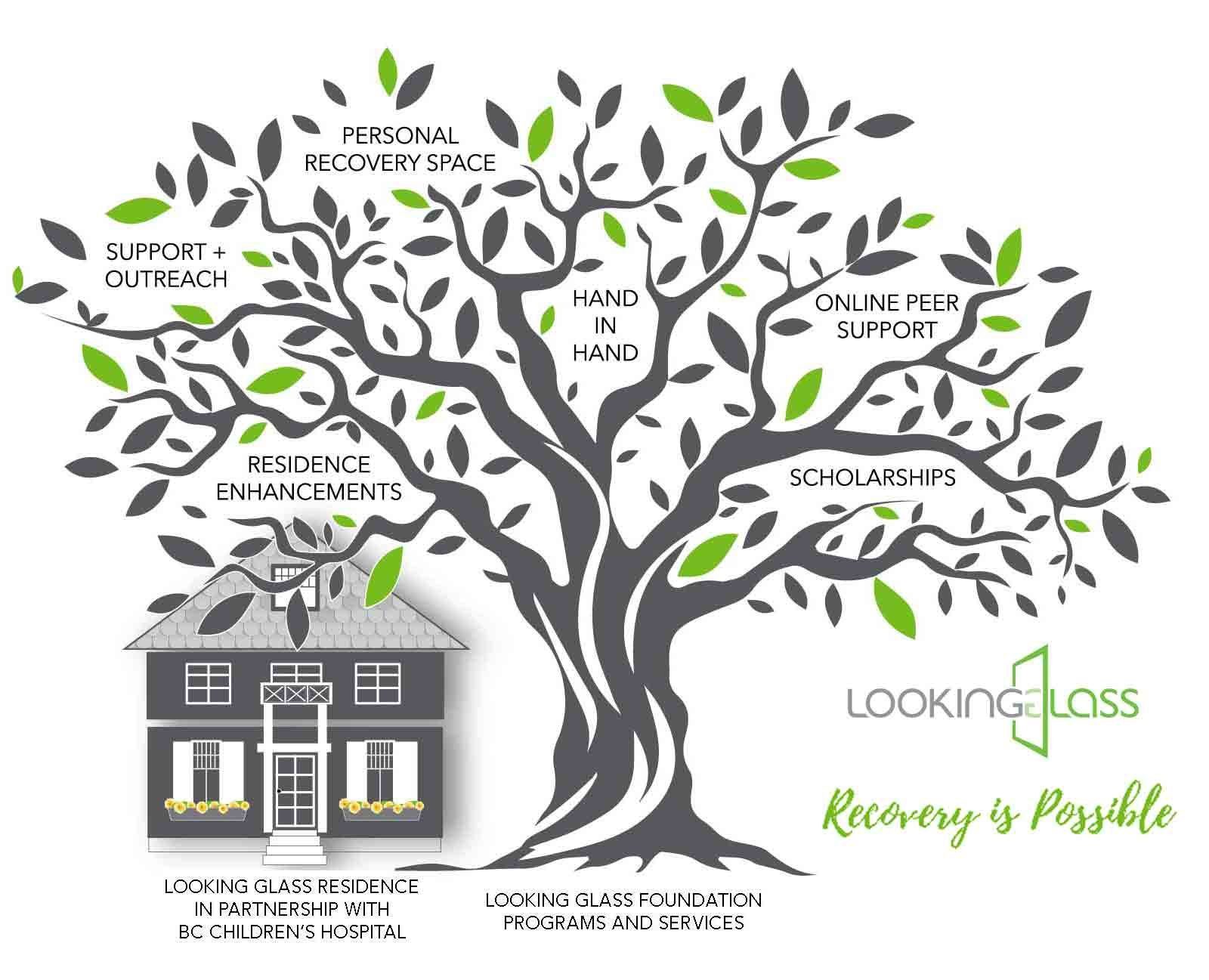 The Looking Glass Foundation was co-founded in 2002 by three families seeking care for their loved ones, who were suffering from life-threatening eating disorders. The passion, integrity, and commitment that drove the Looking Glass Founders remains unchanged today: no one should have to struggle alone against these mental illnesses.
Using this as our inspiration, we provide programs and services that decrease isolation, instill hope, and sustain recovery for individuals across British Columbia who are impacted by eating disorders.
We offer three peer support programs - Hand in Hand, Online Peer Support, and Personal Recovery Space. These programs are made possible by our dedicated volunteers, who know that having a non-judgmental, compassionate mentor can be a critical part of an individual's healing journey. All three of our programs can be accessed on our Program Hub which you can learn more about here.
In our unique Hand in Hand peer mentoring program, volunteers meet weekly with participants aged 16 years and older. Our goal is for participants to feel understood, safe, and supported. Having a non-judgmental, compassionate mentor can be a critical part of an individual's healing journey.
Our Online Peer Support chats take place ten times per week. Volunteer moderators facilitate real-time group chats that are safe, confidential, and encouraging for participants, aged 14 and older, at any stage of their recovery.
In our Personal Recovery Space program, volunteer mentors provide a private digital forum accessible 24/7, offering empathetic, flexible, and confidential support to individuals 14 years and older.
We know that navigating eating disorder support and treatment options can be challenging and costly. For this reason, our peer support programs are available to all genders, are offered at no cost, with no limit to frequency of usage, and support individuals struggling with any type of eating disorder or disordered eating. No formal diagnosis is required.
Envisioned by Looking Glass Foundation in recognition of the many people unable to access affordable support, our Bridge the Gap program provides affordable one-to-one therapeutic support to individuals in British Columbia aged 19+ who are affected by eating disorders. Bridge the Gap also provides a meaningful learning experience for students in the field of counselling.
In addition to our peer support and counselling programs, we offer a scholarship program, which recognizes the resilience and achievements of B.C. undergraduate students who have experienced an eating disorder. Each year, scholarships are awarded to exceptional students who embody what it means to persevere, to rise above adversity, and to pursue their passion in life.
Looking Glass Foundation staff and Board also provide support on the phone, through email, and in person to individuals seeking resources and guidance on navigating disordered eating and eating disorders. Often, this may be the first time someone reaches out for support. Or, they may have tried, unsuccessfully, to get help elsewhere. We listen, empathize, and do our best to give each person guidance on how to access support. In addition to phone and email support, we strive to raise awareness of, and reduce the stigma and isolation associated with eating disorders, through our curated social media posts, blogs, and community partnerships.
In 2011, Looking Glass established Canada's first eating disorder residential treatment program for youth aged 16 to 24. The Residence is now operated in collaboration with the Provincial Health Services Authority and is located in Vancouver, BC. The Looking Glass Residence is a 14-bed treatment facility for youth of all genders, who are suffering from anorexia, bulimia and other eating disorders. 24/7 care and support is provided by a multi-disciplinary team of medical and mental health professionals in a caring, home-like setting.  At the Residence, youth engage in a variety of guided recreation, arts, and leisure activities that enhance self-esteem, build a sense of connection, and reconnect these young people to the critical life skills and confidence they will need to thrive in the world without an eating disorder. Access to this program is by referral only.
If you have any questions about our programs, please call us at 604-314-0548, or email us at programs@lookingglassbc.com. If you would like more information on the Residence please call 604-829-2585.