Join us on August 23rd at Moody Ales & Co. for the Be Kind To Your Mind Summer Fundraiser, in support of Looking Glass Foundation.  
Through the generosity of donations, t-shirt sales, half-marathon runs, and community events, Be Kind To Your Mind has raised over $12,000 to support life-changing programs and resources for organizations like Defeat Depression Canada, Mental Health Association, St. Paul's Foundation, etc.  
This year Be Kind To Your Mind has chosen to support Looking Glass Foundation! 
Looking Glass is proud to partner with one of our active program volunteers, Christina, Founder of Be Kind To Your Mind, who has been organizing fundraising events for the past 8 years. As a Looking Glass volunteer, Christina has seen firsthand the compassion and courage of those who access our programs and services. Christina hopes that funds raised from this event will benefit individuals experiencing eating disorders, and that those affected will feel supported on their recovery journey. 
So join us! Be Kind To Your Mind is a memorable way to come together in support of an important cause.  
Be Kind To Your Mind
Date & Time: Tuesday August 23rd, 2022 – 6pm - 10pm 
Location: Moody Ales & Co – 2601 Murray St, Port Moody 
Early Bird Tickets: $20 (until August 12) | Regular Tickets: $25 
Can't attend in person, but still want to show your support? Here's how: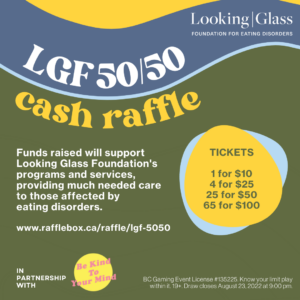 50/50 Raffle 
This year Looking Glass Foundation is hosting a 50/50 raffle! A 50/50 allows us to raise funds for our programs while supporters like you have the opportunity to win a cash prize. Tickets can be bought online in advance or at the event. The raffle is open to everyone (must be 19 years of age and reside in BC to play) so be sure to share the link with friends and family! If you can't attend the event, purchasing a 50/50 raffle ticket is a wonderful way to still participate and show your support.  
Donations  
Looking Glass Foundation is always accepting donations and truly appreciates the support from our community. Any amount counts. Your donation of $20 and above is eligible for a charitable tax receipt. Your support enables Looking Glass Foundation to offer accessible programming, while aiming to reduce the stigma associated with eating disorders. 
Every dollar raised will go directly towards Looking Glass Foundation's programs and services that instill hope, decrease isolation and sustain recovery for individuals across British Columbia who are impacted by eating disorders.