At Looking Glass Foundation, we count ourselves lucky to have a team that's made up of some truly wonderful people and we are thrilled to welcome Alex Charleton as our new Hand in Hand Coordinator. Alex has been a valued member of the Looking Glass community for many years, including previously overseeing our Personal Recovery Space forums. Alex is an eating disorder counsellor and currently facilitates our Eating Disorders 101 volunteer training and our monthly Recovery Conversations group support series. Here's a little more about Alex: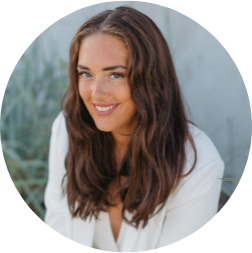 Alex is a strong believer that we heal in community, and that our strongest potential for transformative change occurs in safe connected relationships. She is excited to be a part of the Looking Glass Foundation's work and mission in providing compassionate, low-barrier, community-based support for any persons seeking help in healing from disordered eating and eating disorders. Alex believes everyone deserves support, no matter where they are at in their journey. As a clinical counsellor, Alex feels it is such a privilege to walk alongside others as they find their way back home to themselves. Alex is passionate about providing care and guidance for eating disorder recovery because she knows how challenging and liberating it can be to restore and mend one's relationship to food, body, and soul.
Alex is excited to step into this new role at the Foundation and ensure people are able to receive low-barrier, consistent care through Hand in Hand, a program that matches individuals with a trained volunteer who provides compassionate, judgment-free support and listening during eating disorder recovery.
Kaela Scott, who has overseen Hand in Hand since it's conception in 2016, will continue to provide invaluable support and oversight to all of our peer support programs, but she will now be focusing a greater portion of her time on our newest program, Looking Glass Counselling | Bridge the GapTM. Under Kaela's guidance, this program has grown from the seed of an idea to becoming a core part of our programming, bridging a gap in much needed low-cost counselling services. You can learn more, including how to support the program, here.
To learn more about any of our programs or the support we offer, please don't hesitate to reach out to our team: programs@lookingglassbc.com.