Survival – it's the most basic instinct of every living creature on the planet and humans are no exception. Our bodies, immensely complex systems that they are, have an amazing capacity to condition, adapt, and sustain themselves through even the most extraordinary circumstances.
It wasn't until anorexia took control of me that I truly appreciated this phenomenal capacity.
Suffering from anorexia isn't just about being thin - it's much more than that. It's a fight for survival that employs all of your body's systems and mechanisms. Among many other unexpected physical changes, I found that my heart rotated itself closer to the center of my body, the better to pump its life-giving blood into my vital organs. My menstrual cycle and other reproductive functions shut down and a layer of fuzz formed on all my skin to insulate my body.
When I began journeying down the road to recovery, I was amazed that my body also proved incredibly proficient in healing itself once I began to treat it well and nourish it the way it needed.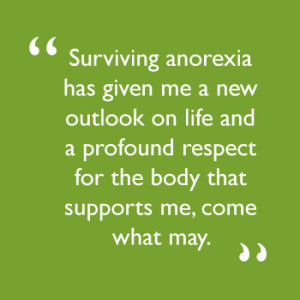 My metabolism spiked as I began to nourish my body again - working to put long-awaited nutrients to use as efficiently as possible.

My heart, liver, and kidneys all resumed their vital functions, having suffered no irreparable damage.

Despite years of calcium deficiency and dormant bone development, my bone density regained its losses (which were miraculously few) and continues to develop normally.

In short order, my cognitive functions improved and my moods stabilized.

Once I returned to a normal BMI, my periods came back and my endocrine system started up again.
Today, I am incredibly fortunate as my body has very few signs of its years of anorexic trauma.
What a testament to the incredible resilience of our bodies. Surviving anorexia has given me a new outlook on life and a profound respect for the body that supports me, come what may. What better inspiration do I need to love it and treat it well, no matter its shape or size?!
Alison is a regular contributor to The Looking Glass' blog, is an eating disorders survivor and is an inspiration to those around her.