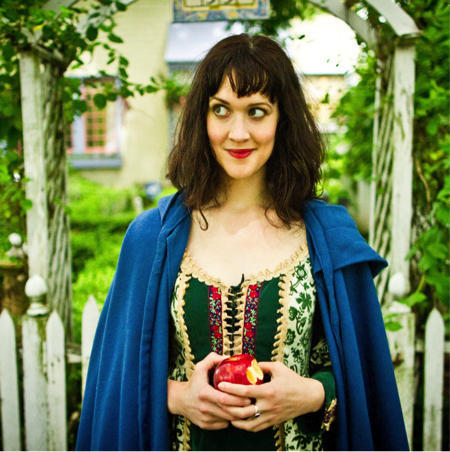 As it turns out, you can transform your poison into medicine.
On Thursday, Sept. 11th at 6:45 PM, join The Looking Glass Foundation's staff, Board of Directors and family for an evening of song and storytelling with Mindy Dillard at Vancouver's Fringe Festival. In her one-woman show, How to Survive a Poison Apple, Mindy weaves a musical travelogue from her experiences with body dysmorphia. Inspired by Jung and the writings of Clarissa Pinkola-Estes, Dillard conjures a layered soundscape with loops and samples, original songs and her tender, funny and artful storytelling.
Click here to purchase your tickets for this special evening.
"In her candid, entertaining and courageous play, How To Survive a Poison Apple Mindy Dillard offers us an opportunity to explore critical issues that girls and women face--body image, acceptance, the search for love and the messages we receive from society about what it means to be beautiful. Using humor, music, compassion and honesty, Dillard offers us an opportunity to reflect on our own relationship with our bodies. Dillard's work provides a heartfelt launching point for a discussion about eating disorders, shining a light on the struggles that girls and women face with these disorders."
~Danette C. Haynes
Click here to read a review from Mindy's performance of How to Survive a Poison Apple in Astoria, Oregon.
Can't join our team that evening? How to Survive a Poison Apple is also showing on the following dates and at each performance, 30% of ticket sales will be generously donated to The Looking Glass Foundation!
Friday, September 5th @ 5pm
Sunday, September 7th @ 7:35pm
Monday, September 8th @ 9:40pm
Thursday, September 11th @ 6:45 pm (Looking Glass Night)
Friday, September 12th @ 8:45 pm
Saturday, September 13th @ 3pm
Tickets and show information here