On Friday April 6th, we hosted our 14th Annual Fundraising Gala — and what a beautiful, love-fuelled night it was! Over 300 guests joined us at the Rocky Mountaineer Station for this year's event, whose hopeful theme was All You Need Is Love. The elegant floral décor, bright Spring colours, and vibrant energy of all in attendance made the evening a wonderful success, and we would be remiss if we did not share our gratitude with the community of donors, volunteers, and supporters who made it all possible!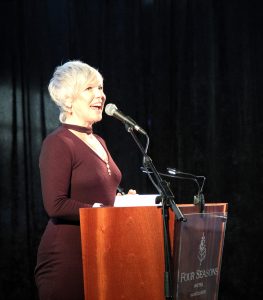 This year's event saw the introduction of a new Looking Glass emcee, celebrated Canadian broadcaster and PEAK radio station founder Tamara Stanners. Returning to the Gala stage was auctioneer Howard Blank, who masterfully kept the Live Auction and Fund-a-Need crowd engaged and entertained as they raised their bid cards in support of our cause. Throughout the evening, guests enjoyed the beautiful décor executed flawlessly by Art of the Party, not the least of which was a stunning handmade flower wall that was bursting with blooms and greenery, and made the perfect backdrop to the BuzzBooth photo booth. The love was popping up in every corner of the room, all night long: from fun and playful photo booth portraits to generous silent auction bids, to volunteers tirelessly keeping the evening flowing smoothly, to the ubiquitous hugs and smiles shared between many attendees. And of course, to cap off an amazing evening, the Moon Coin Show Band gave a highly energetic performance that had guests of all ages on their feet, especially when they drove the Gala theme home with their sunny rendition of the Beatles' hit "All You Need Is Love."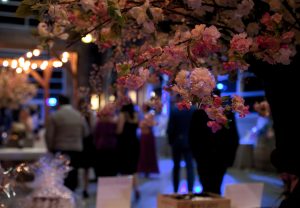 "Love shows up in a lot of places at the Looking Glass Foundation," Tamara told our guests as she introduced the special video. "It shows up in the passion of the Board and staff, in the self-sacrifice of our many volunteers, and in the amazing generosity of our donors. It also shows up amongst the friends and family of people who suffer; the patience and steadfastness and courage of those who deal with this tragic disease is incredibly profound." As we shared this year's video presentation, which featured the special role of siblings, family friends, and caring supporters in overcoming an eating disorder and embracing self-love, we saw that same steadfast sentiment reflected in the eyes and hearts of everyone in the room. That is the real legacy of the Looking Glass mission: love makes recovery possible.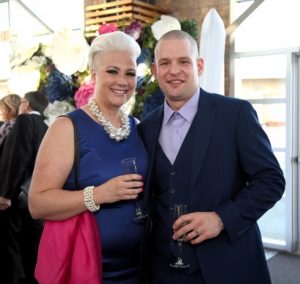 Speaking of steadfast love, we were beyond fortunate this year to welcome to the stage the inspiring husband-and-wife guest speaker duo of Tyson Busby and Jessica Melo. Tyson was one of the first clients who attended the Woodstone Residence on Galiano Island, and our first-ever male client. Tyson and Jessica took the stage to not only share Tyson's remarkable, heart-wrenching story of battling an eating disorder, but also to thank the Looking Glass community of donors and supporters who made his recovery, and ultimately the happy ending they share today with their two beautiful children, possible.
"You could really feel the love in the room," said Executive Director Stacey Huget of the 2018 Gala. "The generosity of our donors always blows us away, but this year's event was especially moving — I think because we were able to really show them the impact their love makes on those who are struggling to recover."
Together, we raised $380,000 towards our programs, outreach, and community initiatives that support the millions of people affected by eating disorders. We couldn't have done it without our community of compassionate people who care so deeply for those who are suffering from this tragic disease.
Thank you!
— LGF
Photos courtesy of All Things Crystal Photography