Be Audacious -- Sitting Down with Stacey Huget
Stacey Huget has fearlessly led the Looking Glass Foundation for 4 years as the Executive Director and for 3 years prior to that, served as a strategic planning consultant. Her passion, resilience and dedication have helped guide the organization through comprehensive operational changes, ground-breaking and community-building campaigns, innovative new program implementation and countless engagements aimed to further the progress, services and advocacy around eating disorders.
We sat down with Stacey to get her reflections about her time at LGF, her insights into the opportunities for the eating disorder community, and her vision for the future for mental health as a whole. We are sure her encouraging and bold words will inspire you, as they have unquestionably inspired us.
What first connected you to LGF?
I was first hired as a consultant by the LGF Board to help them with strategic planning back in 2011. After 3 years of working together, they approached me about becoming the Executive Director. It was only then that I let them know that I myself had struggled with an eating disorder for 22 years -- part of the reason I'd been so passionate about the cause. It seemed like my becoming the ED was even more of a fit after that.
What are you most proud of accomplishing during your time as ED at LGF? 
Well, for one thing, when I started, LGF was pretty much a virtual operation run by some very committed Board members who were doing amazing things -- but there was no office, no staff, no systems, no promotional material, no real strategy. Building up the LGF as we know it today was an enormous challenge, and I'm definitely proud of my part in that.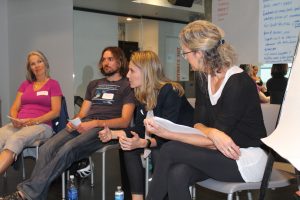 Another thing I'm proud of is how we've doubled the LGF community to over 6,000 organizations and individuals, including a network of nearly 900 volunteers -- many of whom are themselves past eating disorder sufferers and are now ambassadors for the fight against this disease. Community is so pivotal to who we are and what we do. As an organization, the "hill we're prepared to die on" has always been the struggle of those who suffer. By growing our community of support, we're growing the critical mass of voices defending that hill with us.
I'm also proud of our team's success in launching several new support programs, including Hand in Hand, which has huge potential as an innovative community-based model of recovery support. And, of course, our Something's Gotta Give campaign and short film series (SGG) -- which engaged and gave voice to the national ED community around the more systemic barriers to overcoming this disease -- was a pretty massive undertaking. We hope SGG will help to move us forward as a community.
I'd like to see us give more of a voice to the people with lived experience of this illness, because I don't think they're heard as much as they need to be. As we did in SGG, I'd like us to encourage them to do more than tell their own stories ... to also speak out about the bigger things they think need to change if we're going to beat this disease.
Tell us where you see the issues raised in Something's Gotta Give (SGG) leading the eating disorder community over the next 5 to 10 years. What are the opportunities there?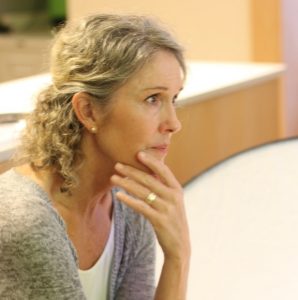 One thing I would like us to achieve is a better positioning of eating disorders within our society's larger conversation about mental health. Eating disorders are such a good flashpoint for dialogue insofar as so many sufferers also experience anxiety, depression, addiction, self-harm, and other mental health issues.
I'd also like for us to critically address the way we allocate funding, support research, encourage innovation around treatment approaches, and introduce education and social policies that advance better mental health in our society in general.
In all of that, I'd like to see us give more of a voice to the people with lived experience of this illness, because I don't think they're heard as much as they need to be. As we did in SGG, I'd like us to encourage them to do more than tell their own stories ... to also speak out about the bigger things they think need to change if we're going to beat this disease. I think that's where we've been stuck. We keep sharing the heartbreak without getting at the deeper, systemic issues. We occasionally get the attention of those in a position to effect real change, but we're not helping to direct their efforts. 
In your mind, what are the remaining gaps in treatment and support in the eating disorder community?
Sadly, there are a lot of gaps. One is the gap in practitioner education. So many healthcare practitioners -- including doctors -- don't actually understand eating disorders, and yet they're the first line of support for people suffering.
Another is the gap in innovation around treatment approaches and models of program delivery -- so that what's on offer sometimes has more to do with what's convenient or "evidence based" in provider terms rather than what's responsive and effective for the person suffering. There are probably some really creative approaches out there that could be having a great impact, but they don't meet the funding requirements to mount evidence-based studies or they do, but their outcomes aren't being shared across the ED community.
But really, one of the biggest gaps we have is in mindset. However well-intentioned, we can be timid and disorganized when we speak out about eating disorders. Given the sheer numbers of people affected by eating disorders, how rapidly it's escalating, and how early we're seeing it show up among our kids, we could be more strident and strategic about what we ask for. We could be saying: this is not okay, this is what we need, and this is why it matters -- not as a philanthropic issue but as a social and even economic issue.
How do we unify practitioners, organizations and interventions that are being offered? How can we all come together?
SGG was, in part, about encouraging people to rally around the things we most want to see change -- and we launched it about the same time as NIED was approaching the provincial organizations about developing a national eating disorder strategy. We were already out of the gate by the time we all met in Winnipeg in September 2016 but I see now we're beginning to coalesce around many of the same issues -- which is fantastic. We're finally moving away from just raising awareness to addressing more of the key, systemic gaps -- which is what those who hold the purse strings and who write the policy need to be hearing about, and ideally from lots of people. Nothing happens as quickly as one would like, but I'm optimistic that there's a new energy and solidarity emerging.
My advice would be to the ED community and I'd give it in two words: Be audacious. With all the courage it takes to recover from this disease, how dare we be timid or dream small?
So are there any moments or stories that stand out for you in particular during your experience with Looking Glass?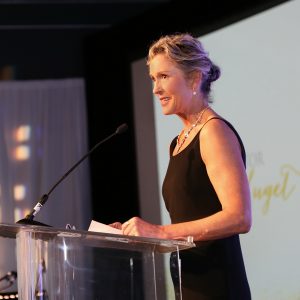 Oh gosh, there are SO many times I've been moved and inspired and amazed by people in this community -- from the courage of those who are suffering, to the passion of volunteers, to the generosity of donors.
One moment I'll always remember was in February of 2016 when we hosted the SGG Rally at the Vancouver Public Library. The room we'd rented was huge, and although we had invited people from our community, the public, and the press -- we really didn't know how many people would actually come. It was a courageous thing we asked people to come and do: to share their stories and their ideas for change in front of other people, and in some cases to even be filmed doing it. It really was such a big ask, and we were terrified that people weren't going to show up and the whole thing would be a humiliating flop. Well, within about an hour the place was standing room only and there was Global TV, CBC, and some of the print press as well, and the noise level was incredible. The energy in the room was absolutely amazing, and it lasted all day long. But it goes to show: If you invite people into a safe space and earnestly invite them to share their experiences and their thoughts about change -- they will.
What will you miss most about working at LGF?
More than anything, I'll miss the people I work with. We've locked arms through some pretty intense times, pushed and supported one another, and always delivered our best effort. That kind of dedication and heart is a pretty special thing.
Of course, it goes without saying I'll also miss the many, many sufferers and volunteers and donors I've gotten to know over the years. It's been a real privilege to experience their humanity, and I'll carry their magic with me as I go.
So tell us a little bit about what you're going towards as you step away from your time here.
I've been so blessed in my career. I spent time in the corporate world, had a consulting practice in the education, wellness, and non-profit sectors, and served as Executive Director for four organizations. Now that I'm in my 50s, I've been reflecting on what I most enjoy doing and where and how I might have the greatest impact over the next couple of decades.
Given my own history with depression, anxiety, an eating disorder, and alcoholism -- mental health is something I am deeply passionate about. I have a certain amount of credibility around these issues as a sufferer, as an administrator, and as someone involved in advocacy -- but not as someone who has credentials on the therapy side. I've been enrolled in counselling on a part-time basis for a while now and am going to go back to school full-time in the Fall to complete the final year of my accreditation. After that, my plan is to go back into consulting with a focus on holistic mental health advocacy, facilitation, and counselling ... but I'm open to whatever the universe has in store.
Any advice for the incoming Executive Director?
My advice wouldn't so much be for the new Executive Director as I'm certain she'll have an amazing impact of her own making. My advice would be more to the ED community and I'd give it in two words: Be audacious. With all the courage it takes to recover from this disease, how dare we be timid or dream small?