Vancouver, BC, December 12, 2019 –- The Looking Glass Foundation is pleased to receive a $20,000 Bell Let's Talk Community Fund grant to support enhancement programs at the Looking Glass Residence, a 14-bed facility where youth aged 16 to 24 receive care from medical and mental health professionals.
"We are very grateful to receive a Bell Let's Talk Community Fund grant to support our enhancement programs for youth with eating disorders," said Susan Climie, Executive Director of the Looking Glass Foundation. "This grant will make a direct difference in the lives of our Looking Glass residents. Thank you for helping to make recovery for our young people possible."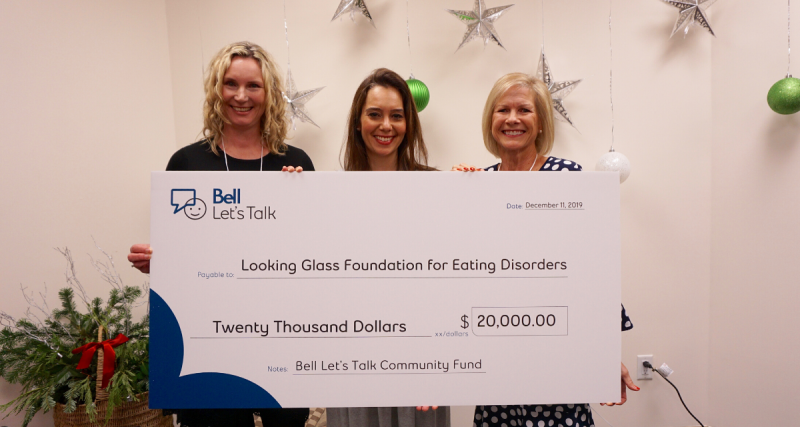 The Looking Glass Foundation will use the Bell Let's Talk grant to provide enhancement programs, including yoga, garden therapy, outings and other activities and, to help youth hone the life skills and confidence to support their ongoing recovery. Enhancements were developed to round out therapeutic work, focusing on mindfulness, self-awareness, skills and confidence to live without an eating disorder. The program is expected to help an estimated 75 clients over the next year.
"Bell Let's Talk is pleased to assist the Looking Glass Foundation's work to help youth in the Vancouver area living with an eating disorder get the ongoing support they need as they recover from their illness," said Mary Deacon, Chair of Bell Let's Talk. "This year we are helping over 120 organizations across the country on the frontlines of providing access to a wide range of mental health services in their communities, just like the Looking Glass Foundation."
The Looking Glass Foundation's programs and services are developed by a team that has lived experience with eating disorders, either personally or through a loved. Our work is grounded in our values: Compassion, Hope, Integrity, Accessibility, Collaboration, Accountability, Courage.
For more information about the Looking Glass Foundation's residence program, please visit https://www.lookingglassbc.com/residential-care.
The Bell Let's Talk initiative promotes Canadian mental health with national awareness and anti-stigma campaigns like Bell Let's Talk Day and significant funding of community care and access, research and workplace leadership initiatives. To learn more, please visit Bell.ca/LetsTalk.
Photo from L to R: Kim Williams, Looking Glass Residence Manager; Kara Kingston, Bell Let's Talk Representative; Debbie Slattery, Looking Glass Board Chair[/vc_column_text][vc_empty_space][/vc_column][/vc_row]