Last week, the Canadian Eating Disorder Alliance, released a progressive strategy that contains 6 pillars and 50 recommendations aimed at improving outcomes for people living with and recovering from eating disorders and related mental illnesses. The 6 pillars include prevention, public education and awareness, treatment, caregiver support, training, and research (https://nied.ca/canadian-eating-disorders-strategy/).
The Looking Glass Foundation aligns with the recommendations put forward and we are pleased to see the strategy receiving media coverage, which helps to increase awareness about eating disorders and the gaps in treatment that are evident across Canada.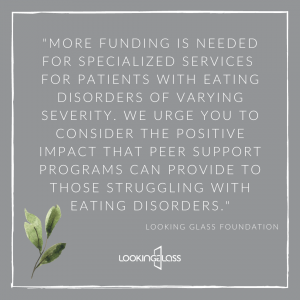 More funding is needed for specialized services for patients with eating disorders of varying severity. We urge you to consider the positive impact that peer support programs can provide to those struggling with eating disorders. At Looking Glass, all our peer support programs are available to all genders, are offered at no cost, with no limit to usage, and support individuals struggling with any type of eating disorder or disordered eating. By increasing accessibility, our programs play an important role in all stages of eating disorders, from prevention and early intervention to relapse prevention and recovery. Looking Glass Foundation's programs decrease isolation, instill hope, and sustain recovery for individuals on their road to recovery.
Recovery is Possible. We encourage you to donate to Looking Glass so you can ensure support is available to the hundreds of individuals who have the courage to reach out for help: Donate today!
A big thank you to the national eating disorder organizations for developing this strategy and advocating for change. Click here for coverage in the Globe and Mail and here to access the pdf version of the strategy.