During these unprecedented, ever-changing times, we want to reassure you that Looking Glass Foundation board and staff are deeply committed to continuing our support for those impacted by eating disorders.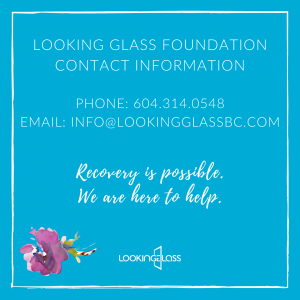 We recognize that this time may be challenging and anxiety provoking in unique ways for those living with eating disorders particularly due to the panic around grocery shopping, and in some areas, restricted access to food. We also understand that eating disorders thrive in isolation and we want to emphasize that despite the need to practice social distancing at this time, you are not alone.
The Looking Glass Foundation programs are still open. If you, or someone you know, are suffering during these challenging times, please reach out to us. We are here to help.
A note about the Looking Glass Residence: Looking Glass residents have been transitioned home and the staff are offering pre and post program supports, and the Caregiver Support group, by virtual means only. All Looking Glass Residence admissions are suspended until further notice. The Residence will continue to receive, and process, referrals at this time.
Due to the increased demand for our programs, we are actively looking for peer support volunteers who are passionate about helping those with eating disorders and mental health issues.
All volunteer roles are online right now, and all our volunteer training is done virtually
We are offering special COVID-19 training sessions, videos and resources to help support our volunteers
For more information and to apply to volunteer, visit: www.lookingglassbc.com/volunteer
We are also asking for your help to ensure that our programs are available to all who reach out for support. COVID-19 is impacting us financially, in large part due to having to cancel this year's Gala, which last year raised $400,000. We already have wait lists, which was to be our Gala funding focus this year. We are asking for your support and deeply grateful for any donations, big or small, we receive at this time. To make a donate or learn how to support us in other ways, please visit:  https://www.canadahelps.org/en/dn/9576
We will all get through this together and we know that we will be stronger as a result.
"The emotional climate right now is an uncertain and anxious one and for all the challenge that brings, if you look for it, you will also see there are a lot of helpers. My hope is that through the Looking Glass Foundation's many resources, and through our community at large you will realize you are not alone." – Kaela Scott, Looking Glass ED Therapist