[vc_row][vc_column width="1/1"][vc_column_text][printfriendly]
[/vc_column_text][vc_empty_space height="16px"][vc_empty_space height="16px"][vc_column_text]
This was my fourth year attending Looking Glass' Summer Camp as the Camp Dietitian. This year, like all the others, was so memorable and was a real journey.
The weeks leading up to camp are always overwhelming. Full of menus, allergies, dislikes, blood work – it can be a lot to handle. But my world always shifts as I drive through the gates at camp.
My heart flutters and I get nervous butterflies in my stomach as the memories of camps past flood in. As staff we always talk about how hard it is to communicate to people in our lives all that camp is and, even as I write this, I struggle to do it justice. This one week at camp is life-changing, not just for the girls but for the staff as well.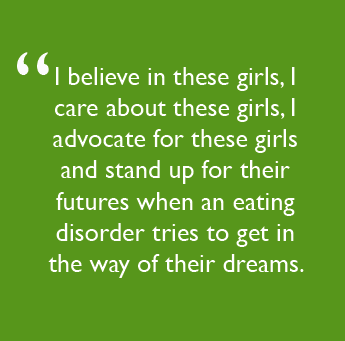 Camp is about so much more than just about nutrition for me. I love my role as a dietitian because it is an opportunity to help girls view food and their relationship with their bodies in a different way. It is probably no surprise that supporting the campers at meals and post-meal times is a huge part of my day-to-day job but when I am at camp, I have the chance to do so much more. I believe in these girls, I care about these girls, I advocate for these girls and stand up for their futures when an eating disorder tries to get in the way of their dreams. So when I see a camper come into camp quiet, reserved and unable to tolerate the first meal without tears or shame, become a girl that just three days later that will share a dessert with a friend with a giant smile on her face, it is impossible to put the feeling I get into words. The strength and resilience I see in the girls at camp is inspiring and, being able to have a small role in instilling that confidence is something that has shaped the course of my career.
Being understood and feeling like you're a part of a community is such an important aspect in growing up and I feel that we often forget how essential these things are for young women to develop. At the closing ceremonies this year that message rang so loudly; the message that the girls feel accepted, heard, valued, safe, understood, part of a community and free from their eating disorder when they are at camp. It is such a beautiful opportunity to witness that shift, to be a part of something that gives a girl a sense of self and to watch them transform into confident, beautiful women that are leaders in the community.
That is really what camp is all about: giving girls an opportunity to shine in their true self - a self that isn't defined by this disease. The Looking Glass Summer Camp really is a leadership camp and I feel so grateful to have the opportunity to return year after year. Thank you to my campers for showing me the beauty that happens when someone is given space, support and love to be themselves.
[dt_divider style="narrow"/]
Ali is a Registered Dietitian at St. Paul's Hospital's Eating Disorder Program, a dietitian at our annual Summer Camp and an integral part of The Looking Glass Foundation's community. You can reach her via www.ThriveBC.com or at ali.eberhardtRD@gmail.com
[/vc_column_text][/vc_column][/vc_row]